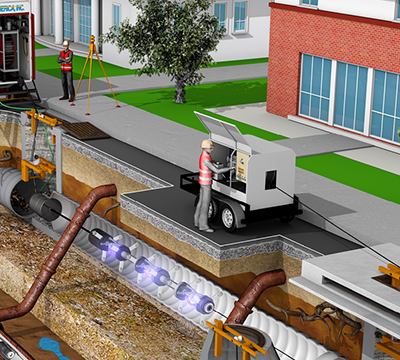 The ALPHALINER® system has unique qualities that appeal to all users of CIPP for pipeline rehabilitation projects; the engineer, the contractor, the municipality, departments of transportation, commercial and industrial facilities. These valued qualities, or capabilities, of the ALPHALINER® UV CIPP include:
ALPHALINER® rehabilitates a variety of pipe materials, including the challenging profile-wall plastic pipe, high density PE pipe, plastic truss pipe, and corrugated metal culvert and storm drainage pipes;
ALPHALINER® can be installed in almost any geometry, even those with flat segments. Because of its relatively thin cross-section and its pull-in and inflate installation practice; egg-shapes, elliptical shapes, pipe-arch or mouth-shapes, basket-handle shapes, etc. can be tightly fit with our liners;
Crushed pipes (badly ovalized but in a state of "fractured stability") can generally be lined and structurally stabilized with ALPHALINER®;
With our unique 8% radial expansion capability, ALPHALINER® UV CIPP liners will tightly conform to corrugated pipes and smoothly negotiate bends and significantly off-set joints;
ALPHALINER® UV CIPP glass reinforced liners are currently available from 2.8mm up to 12.6mm in thickness;
Full structural integrity (independent except for the required sidewall support of the pipe embedment) is regularly achievable with ALPHALINER® when the host structure is deemed to require a fully-deteriorated design condition; and
The strength, toughness and ductility of the fiberglass system employed permits the ALPHALINER® to accept high impact loading without damage.
ALPHALINER® UV CIPP liners are applicable for all domestic wastewater and stormwater applications as well as most industrial applications. To meet industrial process flow requirements, ALPHALINER® UV CIPP liners can be tailored to perform under high temperature [above 180°F (82°C) up to 248°F (120°C)], high abrasion, and highly corrosive environments.