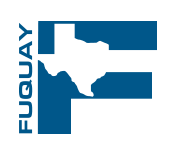 Contact Person: John Fuquay
Street: 4861 Old Hwy 81​
Postcode: 78132
City: New Braunfels
Country: United States
State / Province: TX
Phone: 830.606.1882
Fax: 830.606.1885
Website: The Texas Trenchless Technology Leader
Welcome to Fuquay Inc., leader in the fields of infrastructure rehabilitation, underground utility construction, road and concrete construction, erosion control, environmental construction, sediment containment and more.
Fuquay, Inc. is a leader in trenchless technology products and services providing real world solutions for the assessment, maintenance, rehabilitation, protection and asset life extension of vital water, wastewater and stormwater infrastructure. We serve a broad spectrum of infrastructure market segments and our office locations in Austin, New Braunfels, & Dallas enable Fuquay to provide our exceptional service and expertise throughout the state of Texas and beyond.
We are a privately owned and operated family business that is Certified WBE/DBE.
Regions Served: Texas
Located in: Contractor System Integrators