An important aspect of any manufacturer's support of the industry in which its products are used is to insure that the engineering community employing their technology is adequately trained in the art of successfully applying those products. With the ALPHALINER® system this means conveying the differences between a conventional felt CIPP system and an engineered glass fiber reinforced CIPP system.
Conventional felt CIPP systems derive their strength solely from the resin system while the glass fiber reinforced CIPP systems are engineered to take the CIPP to a whole new level of strength by employing a glass fiber matrix in a configuration that optimizes it's in place strength and maximizes its resistance to creep under load. This dramatic performance departure from the conventional CIPP system requires updating the design engineering community's approach to CIPP wall thickness design and to the differences in the field samples quality assurance testing. To facilitate the engineering community's education, RELINE™ makes this information available through its Engineering Design Guide and a state of the art technical specification for inclusion in their contract documents.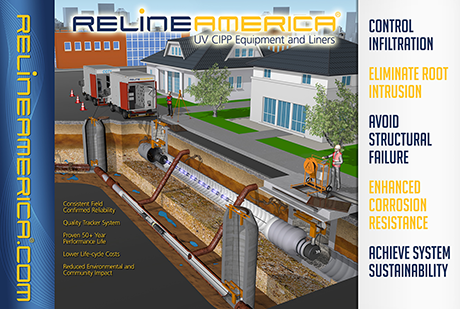 ​
Further evidence of our effort to bring the requisite technical support to the engineering community is our support of industry related trade exhibitions and technical conferences through our active participation in these events. We also have prepared a series of "lunch and learn" programs to bring the information directly to the engineering community in their local offices.